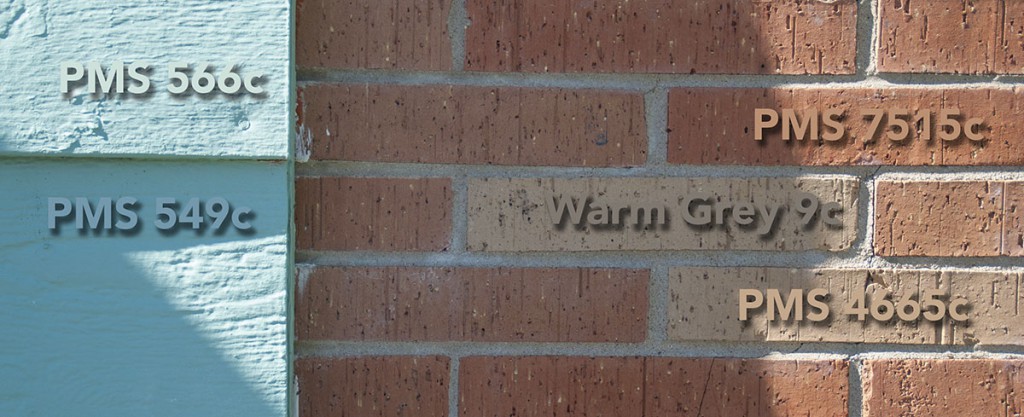 The Pantone corporation has owned the color-matching business for as long as I have been printing, and us screen printers have used their standard coated & uncoated fan books to match spot colors since the dawn of the mists of time. A designer in Philadelphia can call on the phone & say "print it with green 368c," & we know exactly what they're talking about, because he & I both have fan books.
For umpteen of those years, the colors in the books were arranged sequentially from the lowest number to the highest number, so finding a color in the fan book was a matter of seeking out the number, in sequence. A fairly simple matter. 3 or 4 years ago though, Pantone decided that with all the new additional colors being sequestered at the back of the book, it was becoming unwieldy for designers to pick colors by color family, so they re-arranged the books so that all the newer colors (they add 10 or 20 a year) were mixed in with their color families, and the fan books since them have not been arranged numerically. At first I thought "huh, the paper on this new book seems thinner," and I hardly paid any attention to the rearrangement of the colors in the book. Until I needed to find one. Where the hell was it? The printers were waiting for me to approve a print, & jobs were stacking up while I dug & dug through the book.
Fortunately, there is an index now added at the back of the book with a list of numbers, & a corresponding page number, but man, it's cumbersome. Let's see.. Blue 2727, page 142, flip, flip, wait what page? dang it… wait, what number? With 6 or 7 spot colors to proof on a t-shirt job, I had numbers bouncing around inside my eyeballs, while printers & jobs waited & waited… page 346… no wait pantone 346… page 220… no wait PANTONE 220… page 346… ugh.
I have been heard to vocally express my dismay on the pressroom floor, and I noticed how much it was bugging the hell out of my printers, too. They have a work order with 6 colors listed on it and need to find the cans or mix the colors, and the same thing — it was taking them time to dig through the index, then dig through the book, & by the 4th color, everyone's eyes glaze over, & you forget what you're doing. Time wastes away, and nothing gets printed.
It occurred to me that the simple, obvious solution would be for Pantone to issue two editions of the fan book — one with the colors grouped in families for designers, and one grouped numerically for printers. An idea! A solution! Pantone Coated, Printer's Edition! I would pay extra money for this, at this point. Back in September, I floated it via email to the support address at Pantone, more or less not even expecting a reply. It read thusly:
Hi folks,
I may be one small voice in the wilderness, but I feel like I need to speak, regardless. I am a printer — I work in print production.
The old Pantone fan books, for many years, had the color chips numbered sequentially in the book. For reasons that seem logical to you — i.e. easier for designers to search for color families — you re-ordered the book to where the numbers are totally out of sequence, and we are directed to an index at the back of the book that tells us what page to find a particular swatch on.
I can't even begin to explain how greatly every production person I've spoken with reviles this decision. It is a huge waste of time on our parts rifling through the index, then rifling through the pages trying to find the swatch we want to match. The excoriations towards the new books by everyone I've spoken to about them are basically unprintable, so I won't repeat them here. Know that they are universally detested by anyone working in production that I have spoken with since their introduction — hundreds of people.
My solution: Please, for the love of all that is good & right in this world, issue a "printer's edition" of your fan books, restored to their former ordering, with the swatches in numerical sequence. I would buy two of them the day they were released, just out of gratitude.
Thank you for your consideration,
A very frustrated consumer,
Chris Vreeland
Sure, some of that was me just venting. Believe it or not, just a day later, I got an actual response! They were listening. Well, no, actually they weren't.
Dear Christophe:
Thank you for your comments concerning the PANTONE PLUS SERIES publications.  We appreciate your writing with your concerns.
The chromatic reordering of the PANTONE colors was done in response to continuous user feedback requesting a more logical arrangement of the PANTONE colors.  As the PANTONE MATCHING SYSTEM color palette has been expanded over the years, the chromatic order has suffered greatly.  As a result, we essentially ended up with reds, greens, blues, etc., in various different sections of the guides, making color selection and specification more complex and confusing for those who choose PANTONE colors for their projects.
By ordering the colors chromatically as we have done, we have made the selection process much more straightforward, and in fact we have had mostly positive reactions from those on the selection/specification end of the process.  This was the only way that we could maintain the existing PANTONE colors with the descriptions that users have known and used for over 45 years.  The alternative would have been to change the numbering system, and it was felt that this would be a nightmare for long-term users of the products.
We understand that those in the printing industry who have grown accustomed to working with the previous PANTONE products are frustrated with this change, and that initially it will cause some confusion.   However, as with any change, it is our feeling that over time, users will see the benefits of the new PANTONE PLUS SERIES products, and this will become less of an issue.
Please do not hesitate to write us at any time if we can be of further assistance.
Best regards,
Pantone, LLC
Wholly-owned subsidiary of X-Rite, Inc.
Basically, Not. Gonna. Happen. Thus endeth this wasted missive.