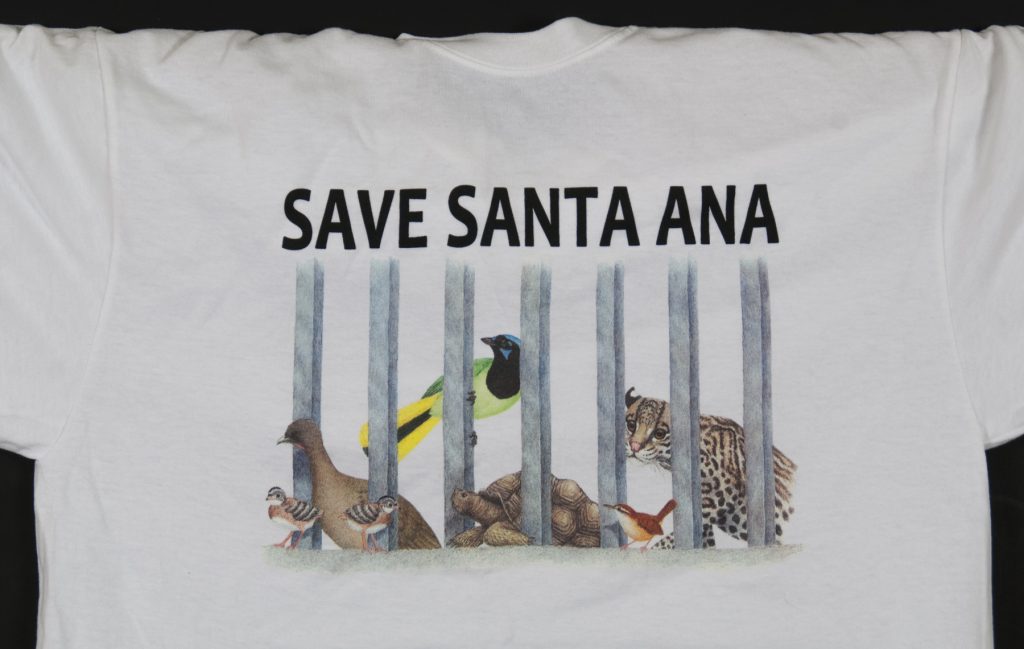 I've been too busy printing for the last several months to stop & blog about printing. But I am still doing some Wearable Serigraphy stuff on the side, and one of the groups of people I do a lot of work for is the birding community down in the Rio Grande Valley. Birders are critical about color & when you print a shirt with a bird on it, you really need to get it right. Anyway, the Rio Grande Birding Festival people got me in touch with the Santa Ana Wildlife Refuge last fall, as they are engaged in the fight of their lives, trying to keep the border wall from crossing through the middle of their preserve, and I've been printing shirts for them to sell at fundraisers & help support the cause. Here's their Facebook page, also & the Save Santa Ana Facebook page.
I'm not super-educated with the details, but to hear Tony Bennet from the RGVBF tell it, the Feds want to put a portion of border wall straight though the middle of the preserve. As planned, it will apparently cut off the entrance & visitor's center from most of the trails & the main viewing platform – not to mention the damage that bulldozing through a nature preserve would do. I had really hoped the border wall was just campaign trail bluster, but they're pushing the thing through — lord knows what price we'll pay in both tax dollars & ecological damage. Lord knows Mexico's not paying for it.
Articles about the fight have appeared in the New York Times, USA Today, & the Texas Observer goes into some detail. The Sierra Club has also been active in the fight.
From my remove, printing a few hundred T-shirts seems like a paltry effort, but I sure hope it helps raise funds & awareness, & that this wall doesn't go through the property as planned.