My Friend Danny Garrett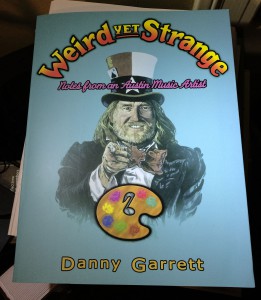 has written a book, Weird Yet Strange, (published by TCU press, also available locally at Book People or on their website) about his years as an Austin music poster artist in the 1970's & 80's. It's not a complete chronicle of his career as a commercial artist, painter & teacher, but it is a very thorough & engaging history of a particular art movement in Austin & his place in that scene, among the giants of Austin music art like Guy Juke, Jim Franklin, Micael Priest, Kerry Awn & others.
The book of course starts out recounting his time as a freelance poster artist for the Armadillo World Headquarters, then moves semi-chronologically through his years doing many fine pieces for Antone's, the world-renowned blues club, his work for Willie Nelson, & a chapter on Stevie Ray Vaughan, who in any book about Austin music certainly deserves his own chapter.
I first met Danny in 1984, shortly I began printing. One of the first shirts I ever printed was his Antone's Little Walter design. Because of the amazing detail in Danny's design, I had to get good quick in order to do it justice so I credit his as giving me an early push to improve my craft as a printer. I have held the original in my hands, and do not feel worthy.
There's so much good Garrett art that it's impossible for one book to do it justice – he rarely sells his original paintings, though they do appear in his posters from time to time. I enjoyed his recollections of the history behind Austin's music art scene, but would love to see a proper coffee table book concentrating on the art itself & spanning all aspects of his career. I hope that's next.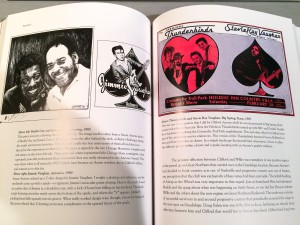 The only downside to Weird Yet Strange is that Danny has so much to say that there's not enough room for images, and a lot of really amazing art got relegated to relatively small reproductions. Thing is though, Danny's also a teacher & he has a head full of information & amazing ideas, so it really is awesome to see some of that down on paper where it belongs.
We went to his book signing event at Book People & he gave a really nice talk for a good 30 minutes before opening it up to questions, which went on for another 20 minutes, or so. There were plenty of alumni in attendence — Franklin was there as was Kerry Awn, & I recognized Tommy Bauman by the sound of his voice before I "recognized" him — it had been that long. It was a nice reunion of sorts, though I mostly observed from the back. Of course, I wore an Antone's shirt for the photo op, as one does.
click to embiggen. A close-up of the Jimmie Vaughan shirt to demonstrate the amazing detail of Danny's pen & ink work
———————————————————————————————————
A final note; one of thanks. It was only upon reading the book that I noticed he included me in his Flatstock poster in tribute to the printers, some 10 or so years ago. I've seen the poster but my name eluded me until now. I managd to acquire one this year at the Armadillo Christmas Bazaar, thanks to the folks running the South Austin Popular Culture Center booth – my ego doth swelleth accordingly. Thanks, Danny! Also, thanks for the book — it's a jewel.
———————————————————————————————————
A final final note: Amongst the shirts I have been cataloging recently, I found this unsigned Joe King Carrasco shirt which Danny has admitted to drawing, on Facebook. It was a 4-color process print, with all the seps drawn by hand. I recall other than the black line art, each sep was a combination of amberlith & rapidograph drawn directly onto the acetate. Not much margin for error there. I think it's a gorgeous design today.