It's kinda ironic that after screen printing T-shirts for 27 years, that the month after I finally start a screen printing blog my job changes, but the more things change…
I'm actually presented with a golden learning opportunity, and man, I've got a lot to learn. With screen printing, the artwork comes unhinged from the computer when you output film, and there are a whole host of physical variables to contol all the way down to the shirt, so apart from an accurate monitor and a basic knowledge of some concepts like grey component replacement, most of what takes place in making a color-accurate 4CP print on fabric takes place in the physical world.
Everything I'm working on right now is inkjet technology of one sort or another, so for mousepads, mugs, DTG shirts, and everything we print on the HP Indigo 5000's, (pdf) the process image is going straight from the computer to the substrate.
I'm taking the opportunity to get my color profiling house in order, because in this world, color profiling really matters. If what you see on screen isn't what you get, you can't just double-stroke the cyan on a Ricoh Gel Sprinter dyesub printer (though I wish you could – cyan is seriously the weak spot on this stuff). You've got to figure out how to display it accurately so that you don't spend half your life printing one, and ajusting the file, printing another, ad infinitum.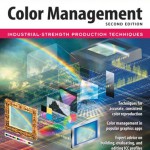 Enter this serious tome I've recently taken up, called Real World Color Management (Industrial Strength Production Techniques), published by Peachpit Press, and written by Bruce Fraser, Chris Murphy and Fred Bunting. I'm not even that far into the book, so I won't really call this a review, but man, I'm getting schooled. Even if you're not interested in writing or editing your computer's color profiles, there's so much to learn in this book about how color works, and how computers and devices interpret color information, that if you have any interest in color, printing, or computers, you will gain useful and interesting knowledge from this well-written book.
They start with the very basics of color theory out of the gate, in a chapter titled What is Color? that provides a concise, yet surprisingly thorough overview of how light interacts with objects and eyes to create the colors we perceive. It offers a good primer on the color spectrum, the bands we can perceive as colors, and how these combine and interact, and how different light sources change the colors of objects. It gets off pretty quickly into the concepts of additive (light) and subtractive (reflectance) color, and some interesting concepts like opponency and metamerism in ways found I could actually understand. They also talk about colorimetry, which is "the science of predicting color matches as typical humans would perceive them," and CIE, the international organization that has gone about scientifically quantifying and describing colors using standard models.
In chapter two, after filling my head with some basic concepts, the book launches off into how computers model color events, and how software interprets the absolute color values of CIE's models, like LAB as information to be rendered in RGB and CMYK — your color profiles. A lot of this work is very recent — the International Color Consortium was formed in the early 90's to standardize color management, and the industry coalesced around Apple's Color Sync after 1993.
That's pretty much where I am now, and have dog-eared the page describing Rendering Intents, and plan to read it again and again until I finally get those four paragraphs lodged in my thick skull. I hope to be done with the book by fall, when it's finally cool enough to go back outside, if I don't glaze over and go catatonic in Chapter 12: The Adobe Common Color Architecture, whatever that is. Wish me luck!